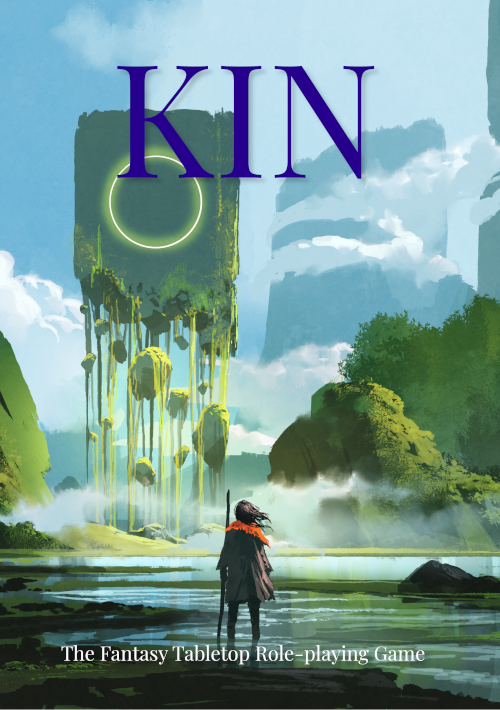 Author: Veo Corva
Publisher: Witch Key Fiction
Pages: 120
Published: 4 October 2021

(Print) ISBN: 978-1-9161009-9-2
---
ABOUT
A mosaic world of magical planes and mysterious mutations.

Enter the world of Vanthis and the Associate Plane, riddled with portals and mutated by the magic of the lands it touches. Through it, walk the glowing green forests of the Glamouring, dive into the star-studded oceans of the Astralar, and feel your way through the shattered shadow realm of the Void Between Worlds.
It's time to start your story.
KIN features a flexible classless character creation system and three modes of gameplay to fit your preferred balance of roleplay and strategy.
6 maps and light world lore to play with
Simple NPC / creature designer for game masters in the Create-A-Creature Workshop
Be who you want to be: build your character from a list of traits with complete freedom over aesthetics and background
Socialise and explore in Narrative Mode, take decisive action in Smooth Action Mode, or slow down for careful tactics in Strategic Action Mode
Quick reference sheets for both game masters and players
Third Party License for independent content
Bonus content: short adventure set in the mysterious gardens of living crystal at the monastary of Dusk Point
Kin's digital edition comes in a lightly illustrated PDF and a text-only ebook and is roughly ~120 pages long. The paperback edition does not include the bonus content and quick reference sheets, which can be downloaded separately for free.
(Cover illustration by Tithi Luadthong)
(Find out about the Kin Third Party License)
Digital Edition
Paperback Edition
| Amazon UK | Waterstones | Book Depository | Barnes & Noble | Hive | More coming soon! |
Free community copies are available on itch.io for those who need them!