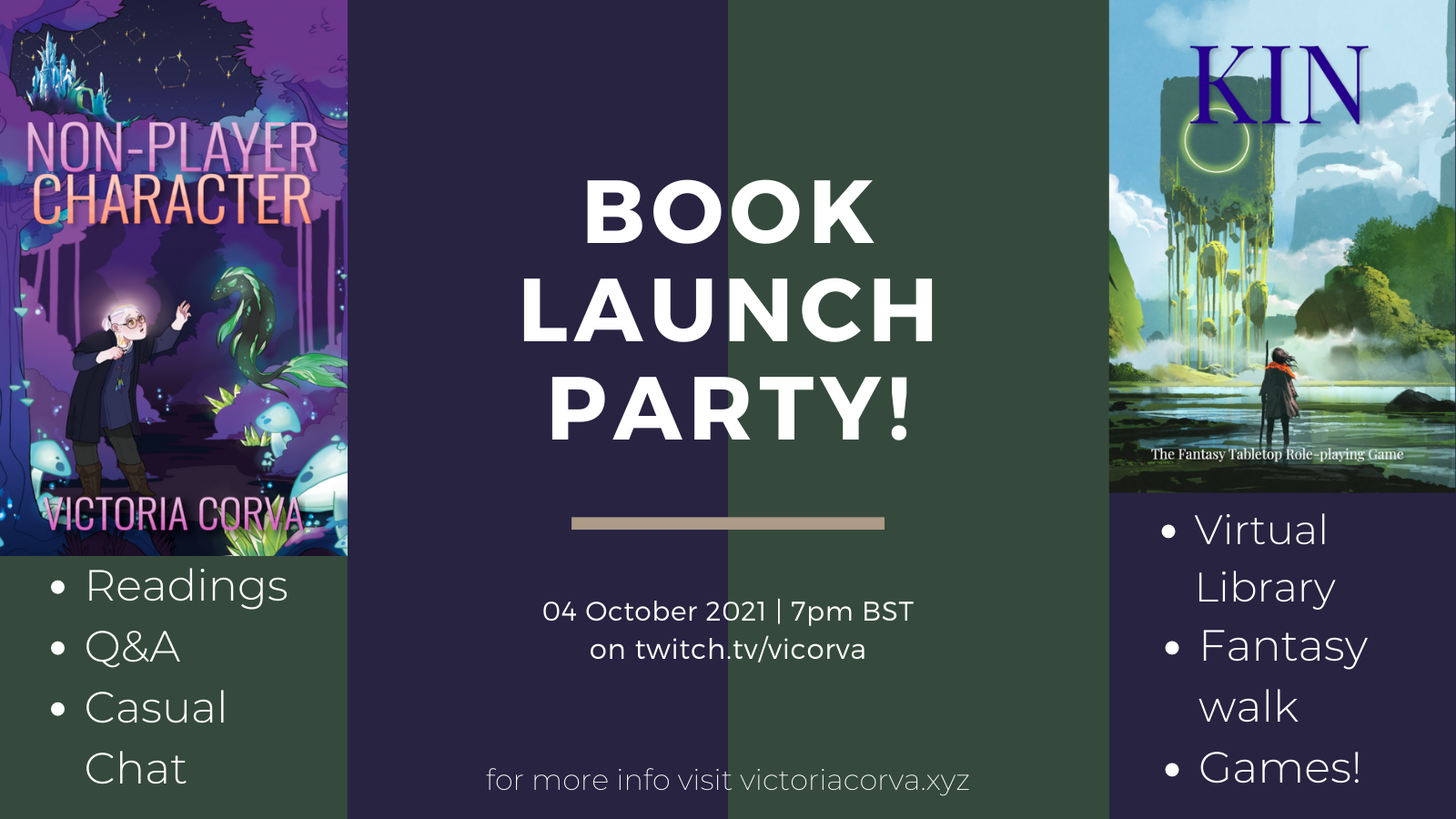 I'm hosting my first ever Book Launch Party!
And it's online, so anyone who wants to can attend!
I'm really excited that both Non-Player Character and Kin: The Fantasy Tabletop Role-playing Game are publishing on 4 October 2021 and I want to mark the event with friends and supporters. Thus: a party!
I'm walking the line between traditional online book launch and newfangled online events, which is to say that the book launch is both a Twitch stream that you can watch (no account required) and an event inside a video game that you can actually attend as a character!
Details
Monday 4 October 2021 at 7pm BST (find your timezone here)
Location: Twitch.tv/vicorva
Schedule: Reading, Q&A Café, Fantasy Stroll, Hide & Seek!
Schedule: More Info
Reading: I read a short passage from Non-Player Character from both the comfort of my own home and the Reading Room in my library in Feral.
Q&A Café: You ask and I answer! We take a quick break to the library café in Feral and I respond to questions in Twitch chat about Non-Player Character and Kin. These can be about story, writing process, Kickstarter, game mechanics … whatever you'd like!
Fantasy Stroll: Casual conversation continues as we take a group stroll through the beautiful world of Feral and enjoy the scenery!
Hide & Seek: We gather for a game of Hide & Seek in Feral to wrap up the event. At this point we are so far from a traditional book launch that I don't even know anymore, but I love Hide & Seek so who cares!
Why Feral?
I find it very hard to focus during online panels and events where someone is just talking into a camera. I also find it very hard to talk into a camera! Feral provides a release for both myself and attendees, allowing us to play and fidget and have something else to focus on while I talk and take questions etc.
I chose Feral rather than some other game because a) I like it, b) it's free and small in file size, and c) it's an event celebrating a novel with a shapeshifting main character who plays MMOs and goes into a beautiful fantasy world. So I figured an MMO with a beautiful fantasy world and shapeshifting characters was a pretty good shout!
But mainly I love video games and I love the increase in live events that take place in video games, like the 'concerts' in Fortnite and Minecraft, and thought it would be pretty cool to have a book launch that takes place in a video game!
How to attend
Twitch
To attend via Twitch, you simply go to https://twitch.tv/vicorva in any browser at the time of the event, where you will see a livestream video and chat. If you would like to take part in the chat, you will need to log in / create a Twitch account, but anyone can view with no account necessary.
On Twitch, you will see my webcam and a feed of the game Feral as I play it, so you will not miss anything if you choose not to play the game!
I will be taking all questions via Twitch and will be doing all talking via Twitch. Therefore all Feral attendees should also have Twitch open so that they can hear me!
Feral
To attend via Feral, you will need to download and install the game Feral. It is a free-to-play MMORPG where you are a shapeshifting magical creature called a Spark in a beautiful fantasy world.
I chose Feral in part because it is a very small file size with very low requirements. There is even a free mobile version available (though it is in very early access and you will likely experience lag).
Minimum requirements

Minimum requirements for PC and Mac:

Requires a 64-bit processor and operating system
Operating System:
(Windows) Windows 7 with Service Pack 1 and up (64 bits)
(Mac) High Sierra 10.13+
Memory: 4 GB RAM
Graphics: Radeon 7000 Series and up
Storage: 2 GB available space

Minimum requirements for mobile: see your chosen app store

Instructions for the event

Instructions for the event:

Once you have the game installed, you can make a character (which you can freely change the species and appearance of at any time) and, at the time of the event, teleport to Corvabird's Sanctuary.

To do this:
Click open the Friends menu (the button beneath your user stats with two foxes).
Click 'Find player' at the bottom of that menu.
Search for 'corvabird' (which is my username). This takes you to my user profile.
Now click the + (to add to friends) and the House symbol (to teleport to my sanctuary).
You did it! You're attending the event.
I recommend adding me to friends because when we go for our walk and hide and seek game, we might get separated onto different servers. So the easiest thing will be to teleport to me directly (using the geolocation tag on my profile, which you can return to via the Friends menu).

Make sure that at the time of the event, you are also watching on Twitch! I will be taking questions via Twitch and doing all communication verbally via Twitch. So you'll want the Twitch stream open in the background at least or you won't know what's happening. 🙂
See you there!
Thank you so much for your support for Non-Player Character and Kin, whether you backed the Kickstarter, shared it around, pre-ordered, or are just excited to learn more about my very queer fantasy novel and TTRPG. I can't wait to see you for the event!